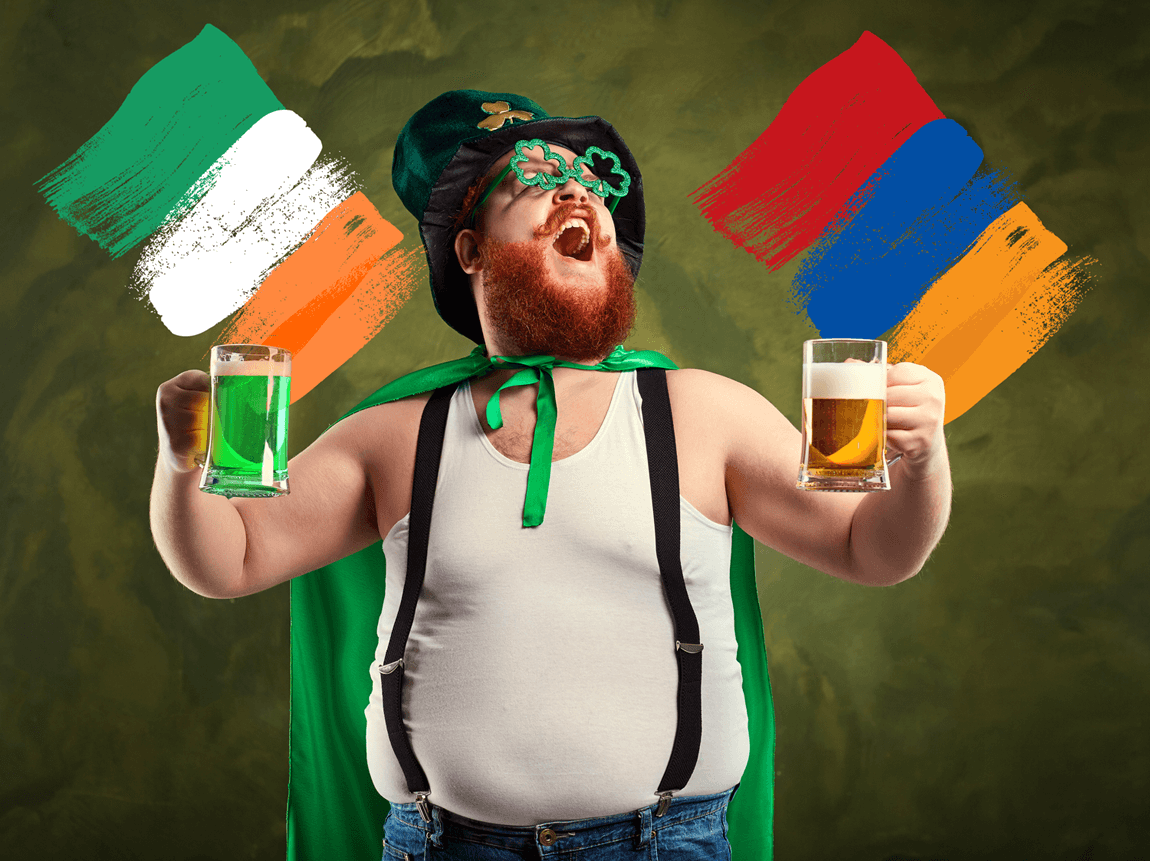 How Armenians celebrate Saint Patrick's Day?
Would Patricius a.k.a Saint Patrick know that in Near East, in Armenia people celebrate his day?
The answer to this question is currently out of our coverage but it's a positive one for sure. Like, of course, this cross-cultural interaction is awesome. Diversity makes our planet a lively place where a lifetime is not enough to explore all the beautiful nations that the humanity has.
Now back to Ireland. You should definitely be in Armenia during March. It's not that much spring-some but the mood is already there starting from March 8 – the International Women's Day.
Armenians do celebrate this day with flowers, poems, much festivity and then comes March 17 – the Irish holiday of Saint Patrick. Oh, it's a total fun watching Armenians transform into cheerful and green Irish folks and party like crazy. But let's be honest, little they know about the missionary and Baptist Saint Patrick. They might even not know that he was not Irish, but British and his contribution to converting Ireland to Christianity in the AD 400s, made him a Saint whose day is celebrated every day in various corners of the world. But does it matter a lot?
What does attract Armenians for Saint Patrick's Day?
The costume game is real; those green hats, clothes with Shamrock prints and the Irish drinks, especially whiskey. The Irish whiskey brands representatives in Armenia implement good marketing campaigns by organizing events on this day and promoting the products that are actually good enough.
Another reason is that Armenians love traditions and are, in fact, quite traditional nation but open-minded for innovations and growth. Since this holiday a traditional one, voila! Armenians are in.
It will be worth to mention that Irish music is funky and joyful. Doesn't matter if you are a fan of it or no, during the events it provides a special high mood that makes you dance around. Besides, Armenians are enthusiastic and passionate, so the celebration is always on fire.
Are there any special events in Yerevan to attend for Saint Patrick's Day 2019?
Sure, there are! You will find below links to some nice places where you can visit with your squad, put some greenish accent on your look and celebrate Saint Patrick's Day, the day of a believer who fight for Christianity and his beliefs. These events are full of quality live music performed by favorite Armenian bands, many surprises from the event organizers, fine food and drinks.
Some events don't have English description, but no worries! Send a message in English to one of the event pages you would like to go, and they will answer you back shortly.
Happy celebration, folks! Sláinte! (Cheers in Irish)
Where to celebrate Saint Patrick's day in Yerevan? – We have some great choices right here: