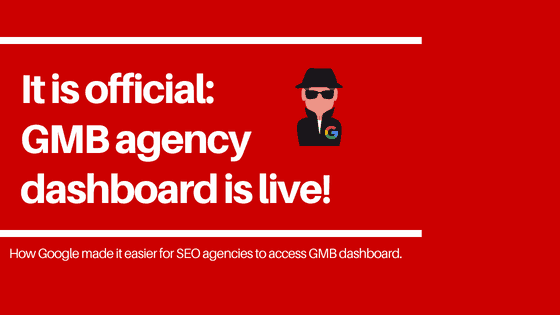 Google My Business new feature targets SEO agencies and it's helpful
If you are an SEO agency or an online marketing firm, you're probably aware of the challenges present in managing a client's Google My Business via Google business Dashboard, especially when there are multiple locations for their local business.
The new Google My Business Dashboard feature aims to resolve most of the complications involved in this process by introducing a brand new dashboard for SEO Agencies. With the new Google My Business Agency Dashboard, every SEO agency will be able to update and change their client's business listing directly from the dashboard, instead of needing the client's credentials every time.
Google announced the GMB Agency dashboard back in November 2017, and has finally started rolling out the update to users around the world. There are a number of improvements made to GMB interface, and now it is more user friendly and simple.
The new features fall in-line with Google's vision of improving the way businesses manage their operations through the use of innovative technologies. The company itself acknowledges the fact that almost one-third of all searches are related to location, and as a result, it makes a huge difference for a business to be effectively listed at all times.
In order to signup for the GMB Agency dashboard, you need to login with an email connected to your business domain.
Some of the leading features that the new dashboard has been equipped with include the following:
No more restriction on number of business locations: Google previously allowed agencies to limit the number of locations under one account to only a 100. This was a nuisance for platforms that had more than 100 locations from various customers under their wing. Now, however, agencies can manage thousands of locations from a single account phasing out the need for multiple Organization Accounts.
Managing invitations and location groups: Google has made location management much simpler by requiring that locations managed by a single agency or user group be contained in one location group. This means that businesses can simply send invites to their agencies and grant them permission to manage their listing without having to share their credentials with them. Furthermore, the dashboard offers invitation management within the same interface making one more task simpler.
Search: Agencies can now effectively locate specific listings among hundreds or thousands of them by simply using the search feature. This cuts down much of the hassle that would otherwise be required if a user had to scroll to a certain listing in order to alter its characteristics or settings.
Google has always ensured that it stays up to date by providing cutting edge solutions to businesses in every domain. The Google My Business Agency Dashboard is an excellent case in point. The dashboard not only offers superlative user-friendliness but also provides considerable performance improvements which mean that adding more locations to a single account won't have any impact on the loading speed of the page.
In the fast paced world of today, it is imperative that processing speeds are not compromised in the pursuit of providing latest features to consumers.
If you're interested in accessing the Agency Dashboard for Google My Business, click here to get started.
Need Local Or Organic SEO service? Consult With Us