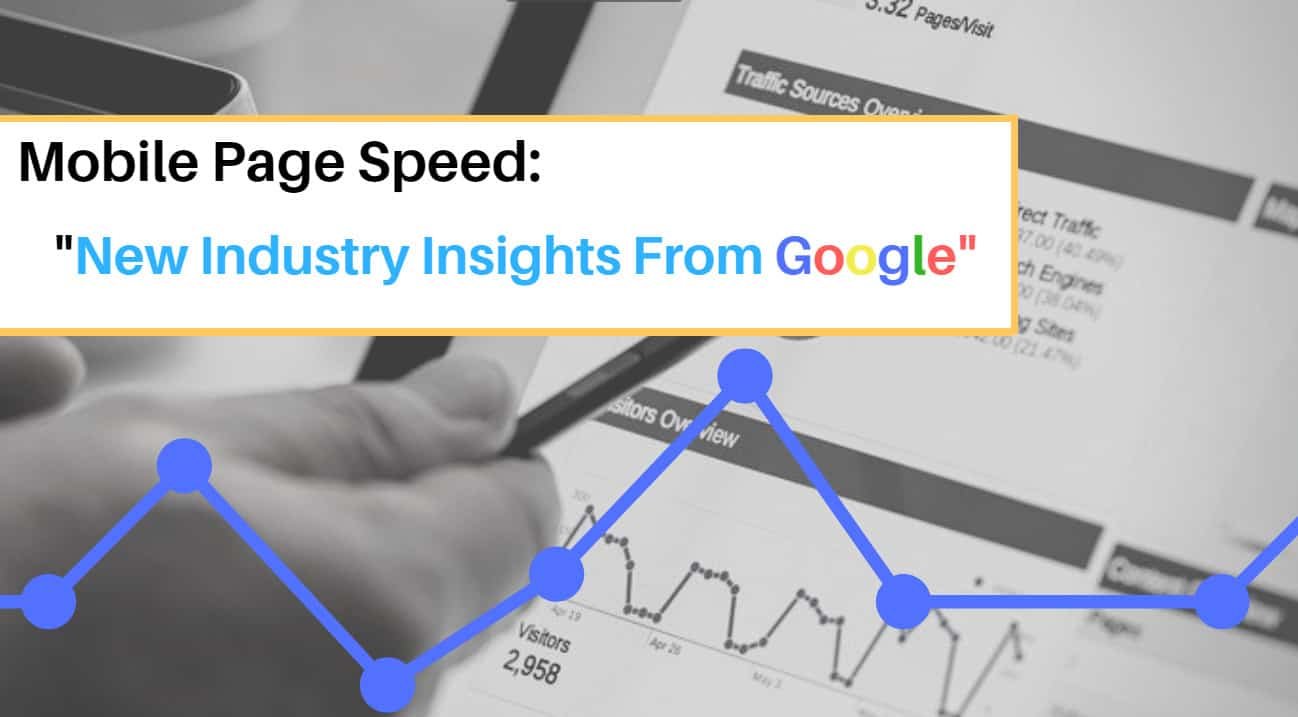 Mobile Page Speed: New Industry Insights from Google
Your mobile page speed could be effecting you revenue. That is one conclusion from Google's latest report on new industry benchmarks for mobile page speed. This article is based on the highlights of that report, including its implications for website owners and how mobile page speed may be improved.
Google's latest research shows that it takes the average mobile landing page 22 seconds to load. However, this research also suggests that 53% of visitors will leave a mobile page if it takes more than 3 seconds to load.
Obviously, the loading time of the average mobile page is not meeting users' expectations. And this applies to websites across all industries. You've probably been in that frustrating situation where you tried to search online for some information, like hotel reviews or  best hotel deals, and the page took forever to load. More over People want to watch a video once it's clicked on. Customers expect paying bills on bank sites to be fast and 75% of online shoppers will abandon cart if a website is too slow.
However, Google data shows that visual content above the fold in seventy percent of web pages take 7 seconds to load. All visual content above and below the fold take 10 seconds to fully load. This is a massive problem because between the 1 to 7 seconds it takes for a page to load, the possibility of a visitor abandoning the page goes up 113%.
Mobile loading speed doesn't just affect visitor traffic; it also affects revenue. When compared to desktop, conversions on mobile are lower, even though most web traffic comes from mobile devices.
On analyzing over 900,000 mobile ads' landing pages across 126 countries, Google reported that most mobile websites are slow and contain too many elements (bloat).
Sometimes site owners compromise site speed for aesthetic effects on their website -think of the era of spectacular flash websites that took years to load. Other times it's just poor design principles such as using uncompressed content. For example, a site owner once saved an entire 20mb video on his website!
Google demonstrates just how bloated or content-heavy many mobile web pages are, using more data insights — 70% of pages analyzed exceeded 1MB, 36% were over 2MB, and 12% more than 4MB. To give some perspective, it takes 7 seconds for a mobile page of over 1.49MB to load, using a fast 3G connection.
This highlights an important correlation between mobile page speed and conversions. As the number of design elements on a web page increase from 400 to 6,000, the chances of visitors converting drops by 95%.
So having a fast website is no longer an option – it is a must.
In any circumstance, 'faster is better and less is more'.
Marketers must focus on providing their website visitors with an optimized mobile experience in order to keep them engaged, as a conduit to lead generation or sales. This calls for better mobile web optimization practices.
Here are some great reasons why you should pay attention to your mobile page speed:
The speed of your website affects your search ranking
Mobile page speed contributes to ranking in Google's algorithm. In 2015, Google rolled out an algorithm that was designed to specially help boost the ranking of mobile websites. And the qualifying criteria for this boost in ranking is fast load times. Better ranking of course leads to more traffic. On the other hand, having a slow loading website or no mobile website leads to poor ranking results and even exclusion from SERPs.
There will be fewer bounce rates with your web pages
Bounce rates refer to the percentage of visits to your website that stop at a landing page.  Slow speed leads to higher bounce rate and of course, less revenue, because less people will visit or even stay on your website.
There are two easy ways to check your bounce rate:
Visit Alexa.com and scroll down till you see the options below: – and type in your website and click Find.
When the analysis is done you will see a report showing your "Bounce Rate"
How to check website bounce rate via Google Analytics:
If you have already setup your Googel analytics
Sign-in to your Google analytics dashboard, then from all accounts select the account you want to check. From Left hand side click on "Reports" then "Audience" you should see the bounce rate from the "Overview"
How Can Website Owners Optimize Their Website Speed?
Here are tips for optimizing your mobile web site:
By compressing texts and images, Google suggests site owners can save over 250kb.
A web page assessment tool such as Test My Site tool, can analyze both mobile page speed as well as mobile-friendliness and then compare your results against the recent benchmarks for mobile page speed.
If the tool indicates issues, all you need then do is contact a professional web designer to correct these issues.
If all these fail, it might be best to consider designing a lean and more efficient website. Your revenue depends on it.
For further details about the latest benchmarks for mobile page speed, as well as how they differ amongst different market sectors and industries, you can get the full report here.
Do you need expert consultancy on your mobile website? Is Your website mobile friendly?
Feel free to contact Simpleit SEO today by phone or email, for a Free Website Design Analysis